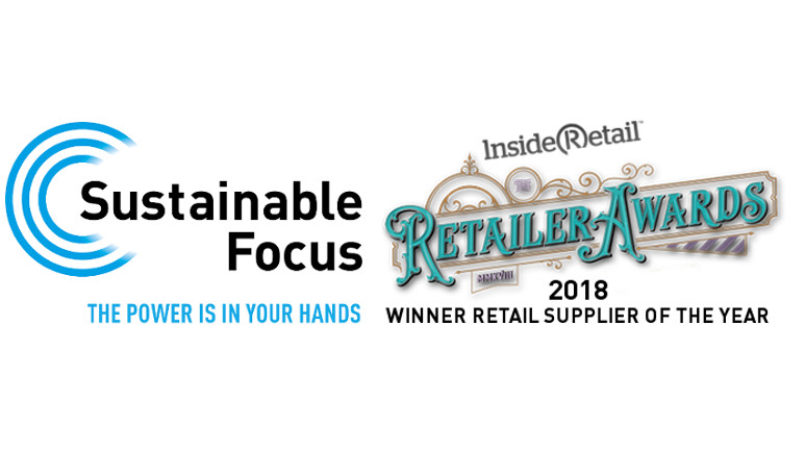 A revolutionary, energy-saving project rolled out across 265 Reject Shops nationwide, has impressed the award judges so much it has awarded the Best Supplier Award to Sustainable Focus at the National Retailer Awards held at the Melbourne Pavilion.
The judges were particularly impressed with the technologies cutting edge Internet of Things (IoT), hardware and software package which is designed specifically for the retail sector.  "The prescience of this business to develop a complete solution is very impressive, we were really impressed with the transparency the package offers for the client".
General Manager: Property for The Reject Shop, Kelvin Chand, who attended the event, said he was thrilled for the Sustainable Focus team and the Reject Shop property department. "It has been a team effort that is saving the business a fortune".
"Integrating the automation system and managing our sites remotely is the best operational decision we have made in years. The visibility we now have is exceptional. Managing energy costs was a critical ingredient in The Reject Shop's business planning and the energy savings delivered by Sustainable Focus had exceeded expectations".
The roll out – featuring automated, in-store energy management systems, remote reporting and analysis, plus high-efficiency LED lighting installation and electricity procurement advice – has halved energy consumption and electricity network costs and improved the customer experience and working conditions for Reject Shop staff.
Sustainable Focus Managing Director Rob Smith said "we are proud that our work in designing and implementing high-technology energy saving systems is being recognised nationally. I would like to thank my team for providing an exceptional level of service."
"In the current climate of rising electricity costs, we hope these awards highlight how we can help individual businesses – large and small – take control of their energy use and bring their operating costs down," he said.
Sustainable Focus has more than 400 energy-saving success stories nationally in retail, industrial, commercial and government sectors – many resulting in energy bill reductions between 50 and 70 per cent.
If you would like to find out how Sustainable Focus became a Winner, read about how we helped The Reject Shop save energy costs on our website.