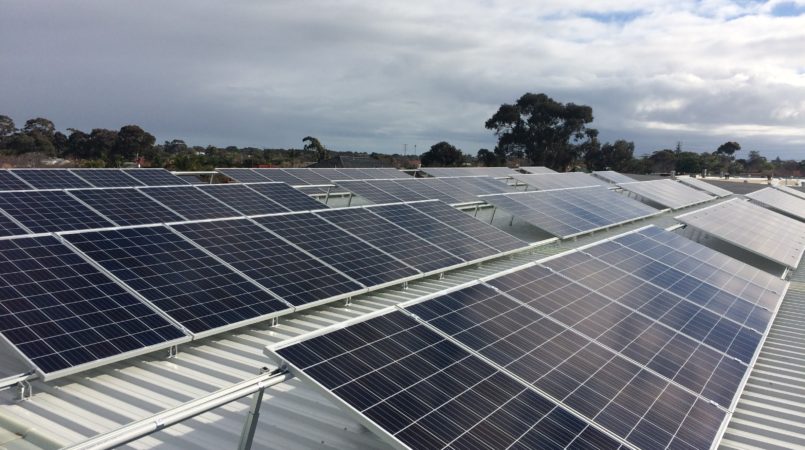 A timely decision 18 months ago to cut electricity use by installing innovative energy-saving technology is paying dividends for South Australia's largest stationery wholesaler.
Newsagency Cooperative ANCOL (SA) / KW Wholesale Stationers, which supplies stationery to 1200 schools and 300 newsagencies statewide, has slashed its energy use by 75 per cent ($50,000 a year) by completing a multi-technology energy efficiency and solar project.
The innovative project – engineered by local energy company Sustainable Focus – includes solar power generation, LED lighting and an automated energy monitoring and management system at ANCOL's Allenby Gardens distribution centre.
"We could see what was happening to electricity prices and decided we needed to insure ourselves against future price rises and bring our current operating costs down," ANCOL Group General Manager, Grant Eckert said.
The system enables energy use to be continually measured and remotely controlled to switch between solar generation and the grid, depending on when the sun is shining.
Sustainable Focus Managing Director Rob Smith said an increasing number of SA businesses were "biting the bullet" and putting up their own money to invest in energy-saving technologies in a bid to cut their electricity use and reduce the impact of energy price spikes.
"By using solar power when the sun is shining and automatically load shedding power at times of high network prices, ANCOL has been able to reduce its distribution centre operating costs by $50,000 a year," he said.
Mr Smith said multi-technology upgrades, combining new energy software with investment in solar generation and LED lighting, typically paid for themselves in two to four years and could transform a business.
He said more SA businesses were looking for energy solutions in light of warnings by the Australian Energy Market Operator that SA faces 125 days of power shortages over the next two years and a high risk of summer blackouts.
"Individual load shedding at times of peak demand has become a critical tool for businesses keen to shield themselves against fluctuations in power prices and supply," Mr Smith said. "It allows businesses to 'smooth out' their overall power bill by turning off non-critical power during times of high network costs or switching across to their in-house solar or diesel generation."
ANCOL is a Co-operative owned wholly by South Australian Newsagents and owns subsidiary companies, KW Wholesale Stationers, Lighthouse Books & Office Supplies and Metropolitan Paper. Mr Eckert said the results achieved by Sustainable Focus had exceeded expectations. "Not only have we been able to dramatically reduce our energy costs and strengthen our commitment to environmental best practice, but working conditions for staff have also been improved," he said.