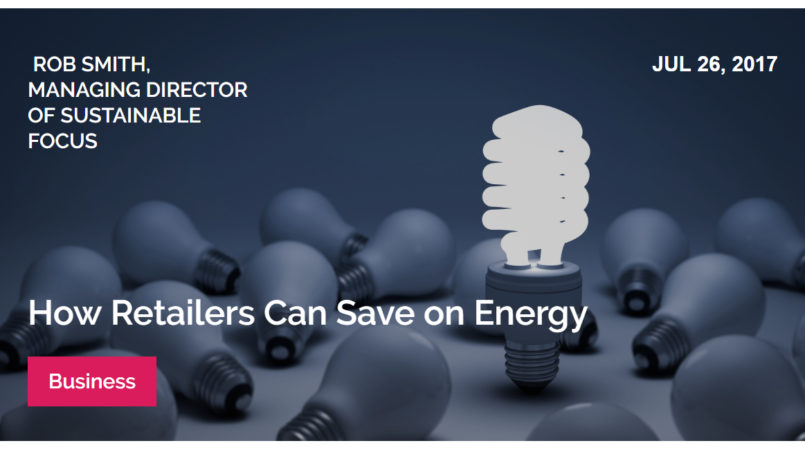 Visit Australian Retailers Association Article
Australian businesses must become "energy-smart" if they are to survive in the face of some of the world's highest electricity prices, says energy solutions company Sustainable Focus.
"In the current environment, the only way to avoid business-crushing power costs is to get wiser about how you use electricity," Sustainable Focus Managing Director Rob Smith said.
"Reducing energy consumption is a big part of the picture that is being overlooked in the current energy debate."
Mr Smith said his company had demonstrated repeatedly that businesses could reduce their power bills by 50 to 70 percent by adopting new, high-technology energy management systems.
He said energy-saving measures included fully-automated electricity control systems-capable of reducing power use during times of peak demand– as well as solar panels and diesel generators.
This was in addition to efficient LED lighting and the replacement or modification of inefficient appliances, air- conditioning, water heating and refrigeration.
Businesses which had dramatically cut their power costs by taking better control of their energy use included:
The Reject Shop which is cutting electricity use by 50 percent through automated energy systems that continually monitor power use across its 300 outlets nationally and generate reports and alarms if the stores are not running at optimal efficiency.
The City of Playford which will save$240,000 a year or about 45 percent of its energy bill at its Operations Centre, Civic Centre and other sites through an automated energy management system that includes electricity monitoring and controls, LED lighting and solar power generation.
ANCOL SA – one of the nation'slargest stationery suppliers – which has cut energy use and costs by 70 percent through a multi-technology-upgrade with an automated energy control system at its core which allows energy use to be optimised and remotely controlled.
"Businesses using clever technology can smooth out their power bills by turning off non-critical power during times of high network costs or switching across to their in-house solar or diesel generation,"Mr Smith said.
"This type of controlled load shedding at times of peak demand is a critical tool for businesses keen to insure themselves against high energy prices."
Mr Smith said the energy solutions implemented by Sustainable Focus had resulted in business energy cost reductions of between 50 and 75 percent and typically had a payback period of 3 to 5 years.